Making changes to S1000D
The maintenance of this specification is vested in the S1000D Steering Committee (SC) who will obtain agreement from the participant nations prior to incorporation and publication of changes.
S1000D change proposals must be submitted on behalf of a member country or organization.  Please Contact Us for help identifying your national/organizational S1000D contact or with any other questions regarding Change Proposal Forms (CPFs).
What is a CPF?
A Change Proposal Form (CPF) is the document and process by which changes to S1000D are introduced. The CPF contains information about the submitter of the change proposal, a description of the proposed change(s), and the rationale for requesting the change.
Any one may submit a CPF. Proposals to amend S1000D must be submitted in the full knowledge that all users, military, industrial, and civil can be affected by changes to the specification, and will be accepted only under international, multi-functional agreement.
S1000D has instituted an online CPF submission process. For more information, and to submit a CPF, see "How to Submit a CPF" below.
How to Submit a CPF?
This process has recently changed in how you submit the proposal, and what happens after the system receives it. While you are submitting your proposal through the S1000D web site, your submission may have to be approved by a governing body in your country, or business sector. It is possible that your submission may not be approved and therefore not forwarded on to the SC for review. This is done to maintain a consolidated perspective of the changes requested to the specification.
CPF Submittal and Management Process
Click image to view full size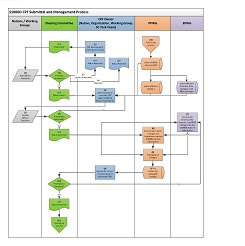 Although CPFs are submitted online, there may be several supporting documents that are required as attachments to the online CPF. In particular, a CPF White Paper must be provided as an attachment to all CPFs. This document provides the details of the proposed change and rationale for requesting the change. For CPFs that propose changes to the XML Schemas, the CPF White Paper is also used to describe the exact schema changes being proposed.
Download the CPF White Paper template and instructions
Browse or Submit CPFs
S1000D uses an online tool called Specring for CPF submittal and management. NOTE: All users must register to view or submit CPFs.